Learn more about Clariti 1-Day Disposable Contact Lenses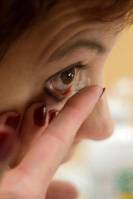 Contact Lenses in Akron & Cuyahoga Falls, OH
Our optometric practice in Akron, Ohio is designed to meet both your eye health and prescription needs.
Dr. Ty J. Miller O.D. Inc can provide virtually all brands and types of contact lens available today including bifocal lenses, tinted lenses, and lenses to correct astigmatism. With thousands of trial lenses in stock, most patients leave the office with trial lenses the same day as their contact lens fitting.
Examples of Brands We Carry:
Ciba Vision- Air Optix (including Multifocals and for Astigmatism)
Bausch & Lomb-Purevision (including Multifocals and Torics)
Coopervision- Avaira, Biofinity
Vistakon- Acuvue Oasys (including lenses for Presbyopia and for Astigmatism)
Here are a number of suggestions for how to get rid of your dry, red, itchy eyes caused by your contact lenses.
Learn More or Order Contacts Online: